Delicious, Biodynamic & Organic
Ice Cream made in the Daintree Rainforest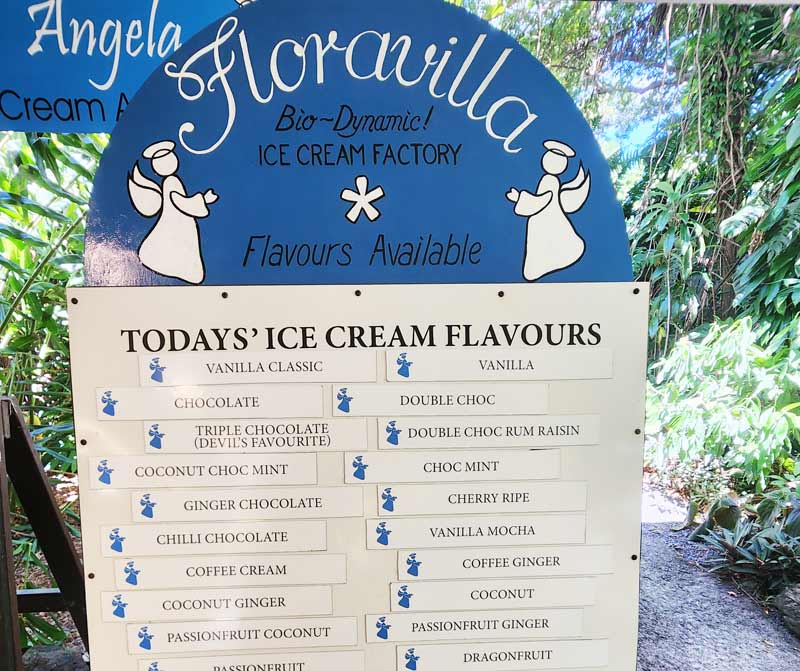 It's always exciting to see what flavours are available each visit to Floravilla – Betty is always creating something new and deliciously interesting!
Some of Floravilla ice cream flavours include: Mango, Passionfruit, Banana, Dragonfruit, Yellow Sapote, Rhubarb, Jackfruit, Durian, Black Sapote, Coconut, Honey, Coffee Hazelnut, Ginger, Double Choc Rum Raisin, Macadamia Nut and of course traditional favourites such as vanilla and chocolate!
Check out the Floravilla ice cream flavours board to see what flavours are available when you visit.
Floravilla combines fresh seasonal tropical fruits and natural flavours to create truly unique & delicious organic ice creams.
No visit to the Daintree Rainforest is complete without experiencing Floravilla's signature ice cream flavour.
A delicious combination of lemon myrtle, coconut, ginger, oganic vanilla, kale and spirulina.
Green in colour, full of healthy superfoods – a flavour you won't find anywhere else in the whole world!